Weddings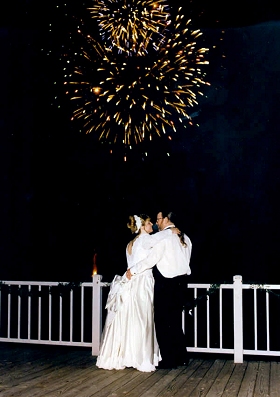 Orlando Special Effects provides unique displays for weddings starting @ $4,500. These shows use specific materials that are better suited and appropriate for these very special events. With these close proximate shows the guests can be as close as 200 feet away. These types of shows last apporoximately 5 minutes, and the effects range from 40 to 200 feet in the air. Shows are eloquently done with gold flitters and glitters, silver comets, crossets, candles, mines and brocades, It's impressive because you are so much closer. We have had great success with these types of shows. This type of material is also used when there simply is not enough room for a large display.
We also build lance and set pieces. Lance or set pieces burn for 45 seconds in various colors. These set pieces are similar to an American flag you may have seen on the ground during a large display. We can build them to say or picture just about anything within reason, perhaps a heart with the bride and groom's names written inside. All of our shows include insurance, permitting, labor material and trucking. All you have to do is say GO!!! We also offer confetti, rose petals, streamers , sparklers, decorative fire, torches or perhaps a flame in the center of your pool!
What ever your needs are we can cater to them. Let us know how we can make your event spectacular and memorable.
Testemonials
"Thank you, so much, for providing such a spectacular fireworks display for our wedding. We were beyond impressed by the caliber of the display. We have great memories of our day and the fireworks are among the best moments." -- Natalie & Derek
"Thank you for making our wedding special with that amazing fireworks display. Our guests loved it and we thought it was better than any fourth of july show we have ever seen. Thanks again!!" -- Tonya & James