In May 1989, Orlando Special Effects was created to support the needs of Corporate Events and Motion Picture Effects in Florida. Within a year, we were incorporated and working all over the US. Along the way, OSE joined the International Association of Amusement Parks and Attractions (IAAPA) and started supporting the theme parks in Orlando and beyond.
As we grew, the military took notice and invited our skilled team to provide unique and custom designed equipment for US Army Training.
We have been providing the Entertainment Industry with high-quality special effects for decades. We are a service-oriented company with thousands of satisfied customers.
The core of Orlando Special Effects is the hard-working and talented employees who have experience, not only with OSE, but in many other areas of the entertainment industry as well. Their outside relationships and experiences make OSE the truly unique company it is today.
Today, we continue to travel the globe providing our original style and equipment to the world of special effects. We are looking forward to the next 15 years as we continue to grow and create special effects for many different venues and circumstances.
Andrew Nicholls ~ Owner / CEO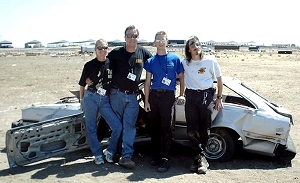 Andy started in entertainment at the age of 16. By 19, he was shooting large fireworks displays for a leading US based fireworks manufacturer. At age 23, he graduated college with a degree in Business Management and Technical Theater. Five years later, after jobs in theater, construction, and fireworks, he moved to Florida and worked for Disney, corporate meeting planners, and on motion picture. He opened Orlando Special Effects in 1989.
Now with over 35 years of experience in the fireworks and entertainment industry he has been appointed a position on the National Fire Protection Association (NFPA) Technical Committee on Special Effects. This committee develops the nationally recognized fire codes for the use of indoor and proximate pyrotechnics as well as flame effects before an audience. He also serves on the Technical Committee on Pyrotechnics, which develops the fire codes for fireworks manufacturing and fireworks displays.